A homeowner's checklist for building an extension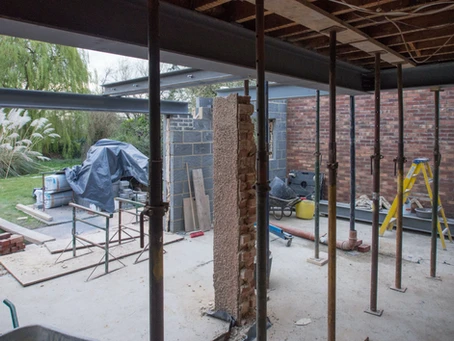 Take a stroll down any post war suburban, residential street in the south-east and what will you find? Quite possibly a good half of the properties have been extended – loft, garage, side, rear, single storey, double storey, flat roof, pitch roof. Arguably many of them are on the ugly side of beautiful, but the one thing common to all is, in order to get built, they were all subject to planning rules and building regulations.
Why do people choose to have extensions built?
You don't need us to tell you it's stressful having builders in your house for weeks on end – especially when you're without a kitchen, have no ceiling in your bathroom in the midst of winter, or witness your garden being turned into a quagmire.
But for many years, the property market in the south-east has undersupplied and been overpriced, not to mention overtaxed, making it difficult to find what you want, where you want, and at a price you can afford.
So it begs the question: why move when you can create the extra space in your present home? After all, it's in a respectable road with pleasant neighbours, convenient for the kids' schools, the shops and the station – for roughly the same net cost as moving house. Makes sense, right?
So what d'you need to know before you extend?
The rules governing permitted developments are enforced by the local council's Planning and Building Control departments and are fairly complex. Here's a brief synopsis of the process:
Contact local council and neighbours
The first thing, if uncertain, is to contact your local council to make sure they haven't slapped Conservation Area status on your street. (Planning rules in a Conservation Area, designed to protect the character of that area, are much stricter, and often compliance involves a higher cost.)
Second, tell your neighbours of your intentions. If they raise objections, you may need the services of a Party Wall specialist.
Design extension
Next draw up a detailed, accurate design of your proposed extension, bearing in mind the principles which will be applied by the Planning Committee. These will normally consider whether the project is broadly in character with the surrounding area, whether it stays in line with (or behind) the building and roof lines of other properties in the road, if, on a corner, whether it obstructs the view of road traffic, whether it respects the privacy of its neighbours, and whether the garden, after extending the house, is still appropriate in size.
Also at the design stage, consider whether any trees protected by Tree Preservation Orders will need to be felled – large, mature trees could be problematical. And try to avoid overcomplicating things. If, for example, your new kitchen or ensuite bathroom is miles away from the existing drainage pipes, you will be looking at significant extra cost.
Submit planning application
Should planning consent be given to your application, a structural engineer's drawings and calculations (translating your approved design into a structurally and environmentally sound building) are needed for your builders to follow.
Begin construction
At each important stage of the building process a Building Control inspector will visit to ensure the work done up to that point (groundworks, brickwork, roofing, insulation, drainage etc) complies with current Building Regulations.
Any nasty surprises are usually confined to the initial stage (groundworks) – tree roots or unstable made-up ground may require much deeper footings than normal. As well as these onsite inspections, Building Control will also need to be satisfied that the insulation in the new build is at least as good as in the rest of the building. A high proportion of new glass, for example bi-fold doors, may be sufficient to necessitate a complex heat loss calculation, and as a result an upgrade in the insulation.
What makes a good Project Manager?
As broad a knowledge of the industry as possible. An understanding of how design can impact on construction costs. Local knowledge of the planning authority and how best to present an application. Experience of working with structural engineers and Building Control. An understanding of the technical issues in building. Extensive contacts with good local tradespeople known to deliver a good job at a fair price.
The Project Manager above might just as easily be the description of a good Building Surveyor, a professionally qualified individual with an unrivalled overview of the construction and property industries. From a consultancy role to get you through the design and planning stage, to managing the whole project for you, a Building Surveyor could make your extension build a whole lot easier.
Final thoughts
Building an extension is a complicated business. There are a number of different approaches to managing it. The homeowner, if he can be onsite most of the time, may project manage the works himself, hiring and instructing the various trades and professionals as and when needed. Some may instruct a general builder to manage the building process for them. Others may appoint a Project Manager to organize and oversee the whole process, from design to completion.
To learn more about the what's involved with building an extension, speak to our team today. We'd be glad to help.
Contact Us
Tate Surveying Services,
Freedom Works, Unit 7 Hove Business Centre, Fonthill Road, Hove, BN3 6HA
"*" indicates required fields