How to find the right property for you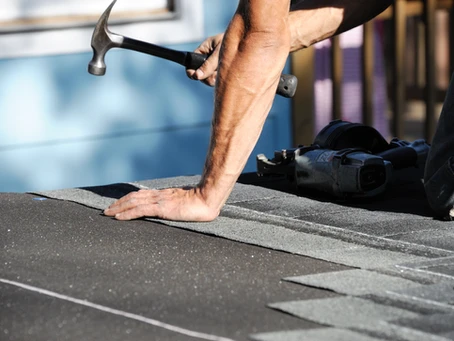 Buying a house is something most of us don't do very often. A lot of money is involved and, if you foul up, you could be looking at some costly aggravation. So to help you make the right investment, here's what to consider before signing any contract.
Before your viewing
First off, before contemplating a viewing, you must assess whether the property meets the demands of your lifestyle. For the first-time buyer, the primary objective is to get a foot on the property ladder. If you're buying to let, the goal is to maximise revenue with minimal ongoing expense. And for those with a property to sell, there are usually lots more boxes to tick…
Location
It's all about location, location, they say. Well, true, up to a point. But, ultimately, no matter how idyllic the property and it's surroundings, you're wasting your time looking at it if you have to commute to work by train and there isn't a station for miles around.
Budget
It's also about what you can afford. You presumably have a good idea of what mortgage you can get. Add that to net receipts (your sale proceeds less mortgage repaid), throw in your savings, and subtract expenses like stamp duty, legal, estate agent and surveyor fees. That should give you the theoretical maximum you can afford.
But what if mortgage interest rates were to shoot up? You could be facing some very difficult times. For that reason, it's often good to allow yourself a little wiggle room.
Lifestyle
So the location is fine and the property is affordable, but what about the accommodation itself? Does it tick all the boxes? Are there enough bedrooms for the foreseeable? Are the living areas spacious enough for entertaining?
Is the garden a suitably sized play area for the children? Is there scope for an extension sometime in the future? Take your time answering all these questions. After all, buying a property is likely to be the biggest investment you'll ever make.
Be prepared with a checklist
So you've found a property that fits your criteria and booked a viewing. Good work. But before you take your foot off the gas, this is where things can often go wrong.
The average viewing is far too quick and the prospective purchaser rarely has a checklist of specific questions with which to drill down into the detail. It means you come away with not much more than a feeling, an overall impression.
Maybe you didn't notice the wooden window frames needing restoration, or perhaps the patchwork repairs to roof tiles, or what about the lack of electrical sockets throughout the house? All these missable details are a future cost to your pocket.
To help with your viewing, it's wise to have a checklist. If you don't know where to start, here's a reduced version of our surveying form to guide you towards the right decision.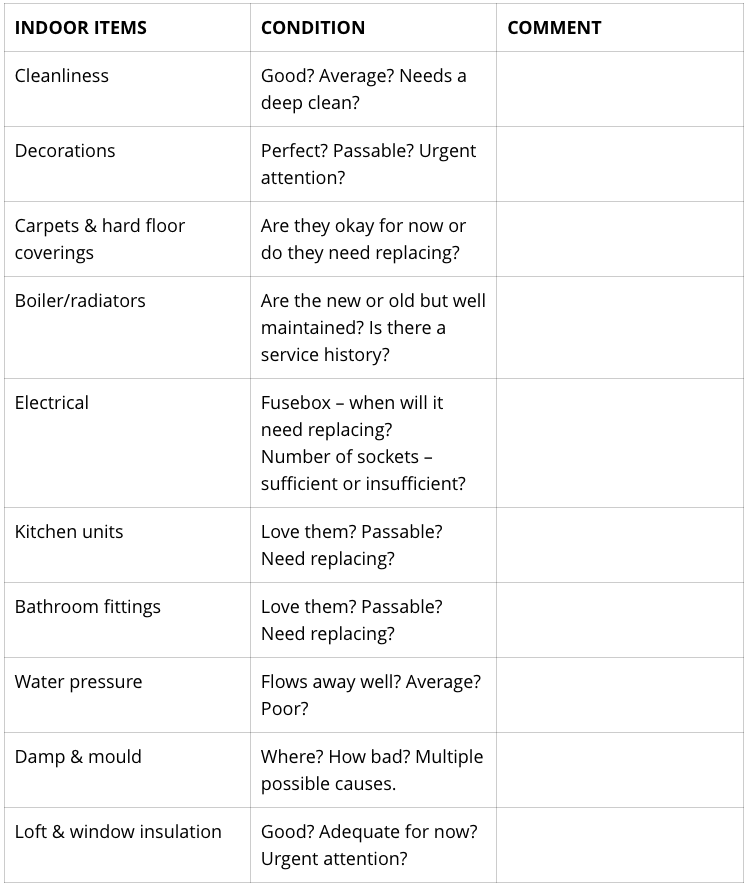 Now you've focussed on the condition of the main constituent elements, you can probably rule out some properties completely. But there are still lots of questions unanswered because you are not a building expert. Are minor cracks in plaster and brickwork anything to worry about? Do the electrics meet current standards and are they safe? Is a damp patch indicative of a problem with the damp course? If certain problems need urgent attention, how much will it cost? And will that cost blow a hole in your budget?
For peace of mind, unless the property is very new and still under guarantee, it's always best to get a surveyor's report tailored to address not just the general, but your specific concerns.
If you have any questions about property surveys or want to book a survey today, get in touch today by calling 01273 031646.
Contact Us
Tate Surveying Services,
Freedom Works, Unit 7 Hove Business Centre, Fonthill Road, Hove, BN3 6HA
"*" indicates required fields